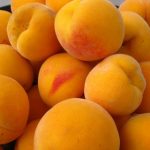 Golden Queen Peaches -Grown in sunny Hawkes Bay! Free delivery.
$24.95 incl. GST
Description
Product Enquiry
Description
4 kg of these scrummy peaches grown right here in the sunny Hawkes Bay – you will taste the difference!
Perfect for the lunch box, delicious at a picnic, great as a chutney, yummy as a sweet pie and delightful in a dessert – peaches are an essential for your summer fruit bowl – comes with free recipes as well!
Price includes nationwide delivery – excludes RD addresses
Product Enquiry